REFLECTIONS ON BLUE OCEAN STRATEGY: A COMPARISON WITH ANSOFF'S, PORTER'S, AND HAX AND WILDE'S STRATEGIES
Abstract
Within the context of the globalized environment, competitiveness has become a critical issue for business. The use of research to inform strategic decisions is thus important for firms on the path to competitiveness, regardless of their market of operation. This paper provides an overview of four strategies—Kim and Mauborgne's Blue Ocean Strategy, Ansoff's Matrix, Porter's Generic Strategies, and Hax and Wilde's Delta model—in order to find the similarities and approximations among them. Applying the scientific reading method, we conducted a comprehensive review of the literature on strategy to draw up a comparative matrix among the four strategies analyzed so as to discuss the typologies for strategy formation modes. This matrix is intended to be used in future field studies. The comparison led to the observation that several possible approaches exist, each suited for distinctive businesses and business environments. This article aims to contribute to a better knowledge of administrative techniques that can help firms - and their executives - improve strategic decision making by choosing the strategy that best fits the competitive environment in which their business operates.
Key-words: Strategic decisions. Strategic approaches. Comparative matrix.
Downloads
Download data is not yet available.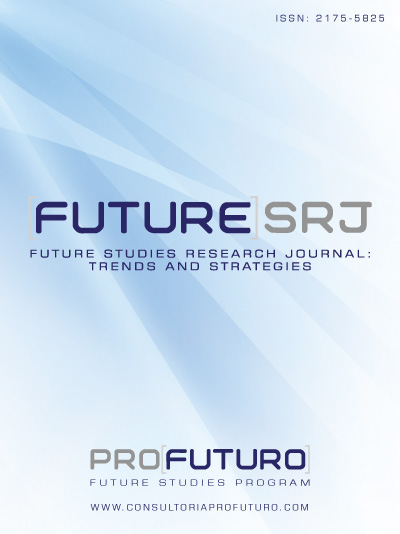 How to Cite
Jussani, A. C., Krakauer, P. V. de C., & Polo, E. F. (2010). REFLECTIONS ON BLUE OCEAN STRATEGY: A COMPARISON WITH ANSOFF'S, PORTER'S, AND HAX AND WILDE'S STRATEGIES. Future Studies Research Journal: Trends and Strategies, 2(2), 17–37. https://doi.org/10.24023/FutureJournal/2175-5825/2010.v2i2.51
Section
Artigos / Articles
License
Authors who publish with this journal agree to the following terms:
1. Authors who publish in this journal agree to the following terms: the author(s) authorize(s) the publication of the text in the journal;
2. The author(s) ensure(s) that the contribution is original and unpublished and that it is not in the process of evaluation by another journal;
3. The journal is not responsible for the views, ideas and concepts presented in articles, and these are the sole responsibility of the author(s);
4. The publishers reserve the right to make textual adjustments and adapt texts to meet with publication standards.
5. Authors retain copyright and grant the journal the right to first publication, with the work simultaneously licensed under the Creative Commons Atribuição NãoComercial 4.0 internacional, which allows the work to be shared with recognized authorship and initial publication in this journal.
6. Authors are allowed to assume additional contracts separately, for non-exclusive distribution of the version of the work published in this journal (e.g. publish in institutional repository or as a book chapter), with recognition of authorship and initial publication in this journal.
7. Authors are allowed and are encouraged to publish and distribute their work online (e.g. in institutional repositories or on a personal web page) at any point before or during the editorial process, as this can generate positive effects, as well as increase the impact and citations of the published work (see the effect of Free Access) at http://opcit.eprints.org/oacitation-biblio.html
• 8. Authors  are able to use 
ORCID
 is a system of identification for authors. An ORCID identifier is unique to an individual and acts as a persistent digital identifier to ensure that authors (particularly those with relatively common names) can be distinguished and their work properly attributed.